Review: iChat 1.0.1
posted April 24, 2003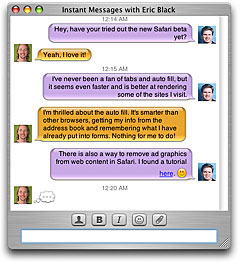 If you've got Mac OS X 10.2 (Jaguar) or newer installed on your Mac, you've probably noticed several applications that ship with the operating system. One of these applications is iChat, and though I had not much gotten into instant messaging in the past, this application makes it easy, and chatting is now something I do fairly regularly. If you have not done it before, instant messaging is like e-mail without the wait, allowing you to type messages back and forth with one or more people in real time.
iChat allows you to carry on these virtual conversations with other instant messaging users, some companies are providing real-time technical support via iChat, and instant messaging can save you money on long distance phone bills. iChat supports instant file transfers too, so it can be a quick and easy alternative to other kinds of file transfer options as well.
To get started with iChat, you must have Mac OS X version 10.2 or newer installed on your Mac. Once that is done, iChat is already installed and ready to use. You will also need either a .Mac account at a cost of $100 per year, or you can sign up for a free AOL Instant Messaging (AIM) account. Enter your full .Mac email address or AIM screen name in the AIM field of your Address Book record, drop a picture of yourself in the image well of your Address Book record (optional), and open iChat.
If you are using an AIM screen name, you'll need to enable AIM in the iChat preferences. Another feature to consider is Rendezvous Messaging. If you are connected to a network with other local iChat users, turning on Rendezvous Messaging will make those users immediately available to you in the iChat Buddy List. If there are no other iChat users on your local network, you can leave this feature turned off.
The next thing to do is to add other iChat and AIM users to the Buddy List. Open the Address Book, enter .Mac e-mail addresses or AIM screen names and pictures for contacts in your Address Book, and drag each contact to the Buddy List. Once your contacts are added to the Buddy List, you can see if they are available for chatting. Buddies that look grayed-out are not online or don't have iChat running, so you won't be able to chat with them until they are online. Buddies that are online will not have a faded look and will have one of three status icons to the left of their names. You can send messages to any online buddies, but the color of their status icons will let you know if you should expect a response. A green (Available) status icon usually means a buddy is ready to chat, red (Away) means they are online, but don't want to chat, and an orange (Idle) icon means they are online, but have not used their computer in a while.
To begin chatting with someone in your Buddy List, double click their name in the list. This will bring up a chat window with a field where you can type your message. Pressing the return key on the keyboard sends the message directly to the screen of your buddy's computer. When they respond, you'll see their messages in your chat window.
iChat has several preferences that you can modify to customize your instant messaging experience. Open the iChat Preferences window and flip through the preference categories to change the default font and balloon color for yourself and your buddies, have your computer play a sound or speak to you in response to an iChat event, block unwanted users with the privacy controls, and more.
You can also customize your chat sessions by stylizing the font, size, style, and color of any of the text you type. You can make sure your spelling is correct with the built-in spell checker (the same one that Mail, TextEdit, and other programs use), insert graphical emoticons (smilies) into your messages, and turn any text you type into a hyperlink that will display a page in a web browser when clicked. You can transfer files to your buddies by clicking the button with the paperclip icon, or you can drop an image file into the iChat text field and press the return key to display an image right in the chat window. It is also possible to save chat windows to keep a record of your conversations.
As for my wish list, I'd like to be able to send an instant sound to a buddy, and it would be nice to change the size of the buddy icons. I also think the single line field for entering text is too small. Luckily, at least the field size can be changed with a program called iChat Enhancer by GeekSpiff. There are several other programs related to iChat that can add smilies, remove smilies, simplify iChat log viewing, and even automatically update your iChat status to reflect the song played in iTunes.
I've used iChat to communicate with coworkers in other cities and states, I talk to my relatives on the other side of the continent, and dBug even held the last Board of Directors meeting online using iChat, so it has really become a useful tool for me.