Review: iMac G5
posted September 22, 2004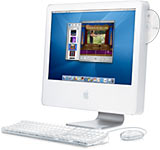 Apple is now shipping the new iMac G5 they announced on August 31st at the Apple Expo in Paris. The Apple Store in University Village, Seattle was sold out when I called and there was a waiting list (of course), but they did have a couple of display models, so I took a little field trip with a friend to check them out in person.
The changes to this model are at least as extensive and dramatic as the iMac G4 changes were from the original iMac. As you can see from the picture, the whole computer is built into the back of a flat-screen monitor. In fact, the only part of the computer that touches the desk is the base of the aluminum stand which fits inside the area of a CD jewel case. That's a small footprint.
The computer/monitor enclosure is two inches thick and appears suspended in air when you are using it, much like the previous iMac G4. The optical drive is located on the top-right side of the screen and is a slot-loading device, and the speakers (which sounded great in the store) are actually located on the bottom of the screen facing down, so the music reflects off of your desk and up at you. I did not notice where the built-in microphone was placed on the computer, but the front of the computer is extremely clean. In fact, it is possible with wireless AirPort (networking) and Bluetooth (keyboard, mouse, and printer) technologies, to have only one power wire attached to the back of the iMac G5 completely hidden from view, providing the least cluttered computer system I've ever seen.
The computer/monitor balances perfectly on the aluminum stand. It seemed very stable and was easy to tilt (but not raise or lower) up and down. It was not as easy to turn the system left or right as the base does not include a swivel system, but it was not too bad, and after-market products are already filling that gap. The up and down motion of the iMac G4 is sorely missing from this new iMac though. My wife and I share our computer and she is about a foot shorter than I am. Raising or lowering the screen with one finger is really nice with the G4. Again, there are 3rd party solutions available since the iMac G5 is VESA compliant. You can attach an adjustable arm to the system that can attach to your desk or the wall for easy adjustability to any angle or height.
The insides of the new iMac have also seen a radical change for the better. Apple has switched from the PowerPC G4 to the PowerPC G5 which is faster than the G4 at the same Gigahertz (GHz) rating, and increased the GHz at the same time to either 1.6 or 1.8 GHz. Add to this a much faster front-side system bus (how the processor gets data to and from other components like RAM and the video card), a faster video card, and a faster (Serial ATA, 7200 rpm) hard disk, and you get a fairly large overall system speed increase. Some benchmarks are already being published on the Web that show the high-end iMac G5 comparing favorably to the PowerMac G5 professional systems (taking into account the dual G5 processors in the pro machines of course).
What do you get with a new iMac G5? You can get either a 1.6 or 1.8 GHz PowerPC G5 processor, a built-in wide-screen 17 (1440 x 900 pixels) or 20 (1680 x 1050 pixels) inch LCD screen, a 533 or 600 MHz front-side bus, 256 MB to 2 GB DDR400 SDRAM, an 80 to 250 GB Serial ATA 7200 rpm hard disk, a slot-loading Combo Drive (reads DVDs, reads and writes CDs) or SuperDrive (reads and writes DVDs, reads and writes CDs). They all have a NVIDIA GeForce FX 5200 Ultra video card with 64MB DDR video memory, 512K L2 cache, two FireWire 400 ports, three USB 2.0 ports, two USB 1.1 ports (on keyboard), VGA output, S-video and composite video output, 10/100BASE-T Ethernet, 56K V.92 modem, headphone/optical digital audio output, audio line in, built-in stereo speakers, and come standard with an Apple Keyboard and Mouse. They are all "AirPort Extreme ready" which means the antenna is built-in, and if you want wireless networking, you can add an optional AirPort Extreme card. They all have the internal Bluetooth module available as build-to-order option as well. Bluetooth gets you short-range wireless connectivity to things like keyboards, mice, printers, cellphones, etc.
The software package is pretty nice as well. All iMac G5s come with Mac OS X version 10.3 "Panther" (including the Classic environment), Mail, iChat AV, Safari, Sherlock, Address Book, QuickTime, iSync, iCal, iLife (including iTunes, iPhoto, iMovie, iDVD and GarageBand), AppleWorks, Quicken 2004, World Book 2004 Edition, Nanosaur 2, and Marble Blast Gold.
What is missing? The standard RAM allotment of 256 MB is pretty skimpy. I would recommend at least 512 MB RAM for a computer running Mac OS X, but I always buy RAM for my computers from third-party sources anyway as it is much cheaper, and installation is a snap on these new Macs. In fact, it looks like Apple has really gone out of their way to make it easy for iMac G5 owners to install or replace most of the guts themselves. I would like to see one FireWire 800 port in addition to the two FireWire 400 ports, but I guess Apple has to differentiate the pro and consumer models somehow.
How much? $1,299 buys you a 17" LCD screen, 1.6 GHz G5 processor, Combo optical drive, and an 80 GB hard disk. For $200 more you get a 1.8 GHz G5 processor and a SuperDrive optical drive, and at $1,899 the iMac comes standard with a 20" LCD screen, 1.8 GHz G5 processor, SuperDrive optical drive, and a 160 GB hard disk. There are lots of build-to-order options on Apple's web site too.
Overall, the new iMac G5 is an incredibly impressive computer. It offers nearly everything you could want in a home computer, and probably a business or graphics workstation for most people as well. It was lucky for my credit card that the Apple Store did not have one in stock while I was there, but after a little coaxing, I'm sure my wife will see that our home is not complete without the 20" iMac G5.
More Resources:
- iMac G5 Product Page
- QuickTime VR Views
- Phil Schiller Apple Expo Paris Keynote
- iMac G5 Video