Winterizing Your Macintosh
posted December 1, 2004
If you live in a cold winter climate you've surely winterized your home and your vehicle by now, but how many of you have thought to winterize your poor Macintosh? Of course, winterizing your Macintosh has little to do with climate and much to do with holiday spirit, but it is of incredible importance (at least at our office) nevertheless. What does "winterizing your Macintosh" mean? Well, if your Mac screen does not look like Snoopy's doghouse in "A Charlie Brown Christmas", read on to find out!
Note: the configuration steps and some of the software described here are for Mac OS X only, but some of the general ideas are useful for older versions of Mac OS and even other operating systems (if you must).
The first and most dramatic step in winterizing your Mac is to find an appropriate desktop picture. You can hunt the web to find free desktop pictures, or you can use your own pictures. The digital imaging experts at Sudden Technology have made it even easier to find a nice desktop picture. Click the small image below to view larger versions of the picture. Save the large image on your computer.
| | |
| --- | --- |
| | Ice Tree |
Just download the picture you like and follow these steps to configure your Mac to display the picture on your desktop:
1) Take the time now to clear all of the clutter from your Desktop. The beautiful new desktop picture you picked out will not look good with a bunch of files and folders all over it. Go ahead and put those items in your Documents folder or elsewhere. I'll wait...
2) Put the desktop picture(s) you downloaded in an easy to find folder. If you share your Mac with other people who have their own accounts, you might want to put the pictures in a place they can access too. I keep mine in a folder titled "Holiday Desktop Pictures" in the "Shared" folder in the "Users" folder on my hard disk.
3) Choose "System Preferences..." from the Apple menu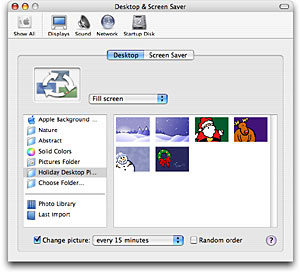 4) In Mac OS X 10.3 or newer, click the "Desktop & Screen Saver" icon in the "System Preferences" window, and click the "Desktop" tab. If you are running an older version of Mac OS X, click the "Desktop" icon.
5) In Mac OS X 10.3 or newer, click "Choose Folder..." in the left-hand list, navigate to the folder you created in step 2 above, select the pictures folder, and click the "Choose" button. If you are running an older version of Mac OS X, select "Choose Folder..." from the "Collection" pop-up menu and pick your pictures folder.
6) You should see your holiday desktop picture(s) displayed in the window. If you want a single picture displayed on your desktop, click the picture and you're done. If you downloaded more than one picture, you could have the desktop picture change as often as you want to keep things fresh, so click the "Change picture" checkbox and fiddle with the settings to get them just right.
Now that your desktop is showing a lovely holiday picture, the first thing you notice is that bare metal hard disk icon sitting at the top right corner of your screen. That just does not fit with our wintery theme, so we need to change it. Again, you can search the web for the perfect holiday icon. I found a few nice ones here, here, here, and here.
Icons can come in a variety of formats. The easiest format to use is standard Mac icons. Other formats will work, but this tutorial shows how to do it with standard Mac icons. Download a suitable icon and follow these steps to change your hard disk icon: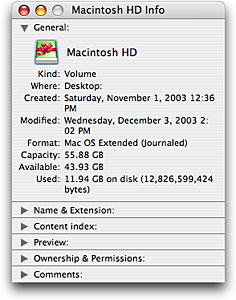 1) Click once on the new icon to select it
2) Choose "Get Info" from the "File" menu
3) Click once on the icon in the Info window to select it
4) Choose "Copy" from the "Edit" menu and close the Info window
5) Click once on your hard disk icon to select it
6) Choose "Get Info" from the "File" menu
7) Click once on the icon in the Info window to select it
8) Choose "Paste" from the "Edit" menu and close the Info window
Now that we've got the right look for our desktops, lets get a little action going. There are several cool little programs that can liven things up a bit.
| | |
| --- | --- |
| | Snow for Mac OS X by Rick Jansen is a $10 shareware program that adds some animation to your screen with small snowflakes piling up on your windows, polar bears wandering around, and Santa flying in his sleigh pulled by reindeer. |
| | Snö is a free program by Infinity-to-the-Power-of-Infinity which gives you more snowflake choices and behaviors. It looks great running along-side Snow for Mac OS X. The Activity Monitor shows Snö to be a bit of a processor hog, so keep that in mind if your Mac starts to slow down. |
| | Xmas Lights is also free and it lets you hang lights from the menubar. There are settings for blinking as well as ways to customize the lights themselves. |
| | Wreath-in-the-Dock by StimpSoft is another free application that puts a customizable wreath in the Dock. |
| | Holidock by Anomaly Industries puts a Christmas tree with changing lights and music in the Dock. |
| | Santa Menu is another free application which puts a little Santa icon in the menubar and makes a "Ho ho ho" sound every once in a while. |
| | Powder by SpherA Software was just released as I was finishing up this tutorial. It is a $7 shareware program that provides 5 different interactive winter scenes with falling snow. You can control several settings in each scene including the weather and amount of light, and the snow even responds to mouse movements. |
| | If you've already decorated your tree this year and miss the decorating rush, you're in luck. Christmas Tree Creator by Spindrift Software lets you decorate digital trees to your heart's content. You can even share the love by printing greeting cards, posters, emailing friends, or viewing your trees as animated screen savers. |
| | And don't forget to add a Snow Globe to your desktop. You can shake it up to send snow flying around the Christmas tree. |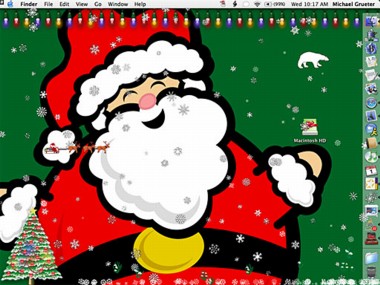 Yes your Mac can look this cool, but just for the holidays OK?
Lets not leave our Macs idle while we're not using them. Holiday screen savers are just the thing to keep our Macs busy while we're off drinking egg nog or hot cider. Frosted from Skyrocket Software combines a winter wonderland scene with sound effects and a talking 3D snowman. NightLights, also from Skyrocket Software decks out your Mac screen with glowing configurable lights. Snö has a screen saver component that compliments the application mentioned above, and SnowSaver which is free from Mathew does something similar but with a 3D twist. If you're in the mood for something a little warmer, try Fireplace for a "real fireplace without running out of wood".
Don't forget to add some soothing holiday music to the mix. Just rip some of your favorite holiday CDs in iTunes and press play.
Whew! Now that we've done all that work, it's time to play. Circus by Mac-Yun-Soft, Christmas Avalanche by Dracosoft, and Christmas Super Frog by Koingo Software might be just the thing to help you relax (or they might just push you over the edge too).
I'm sure the elves in Cupertino are hard at work developing iFiggyPuddingDispenser™, so we'll have something new to try next year, but careful adherence to the steps in this tutorial should get our Macs through this winter anyway.